Victor Green, retired 12 year veteran of the NFL, is very passionate about improving the lives and future of our youth. In 1995, Victor started the Victor Green Foundation along with Professional Partners for YouthDevelopment. Currently the Foundation is located in Victor's hometown of Americus, Georgia. Victor is branching off his foundation to Atlanta, GA where he can expand his focus and his time towards improving the lives of the communities youth.In 1995, the foundation implemented an Intervention Center for the youth in Americus, GA.. It operated 3 days a week and on some weekends, which were set aside for merit trips and fun days. The facility held 75-80 students in a learning enhanced environment where tutorial assistance and mentoring was available.
The new foundation in Atlanta will continue to focus on helping the youth of our communities to develop goals and take steps towards fulfilling their goals. By moving the foundation to Atlanta, it will allow a larger group of Individuals that will be able to donate their time and money, therefore reaching more youth. Among the objectives of the foundation, will be to reduce the drop-out rate in schools, increase academic excellence and reduce the juvenile crime rate and gang participation.Victor Green Foundation is glad to announce that it will be partnering with Hope Worldwide here in Atlanta to implement a character and physical fitness program. The Hope program as been around for seventeen years and has a 4-star rating. Hope is known for its education, mentoring and volunteering with its investment in fighting poverty.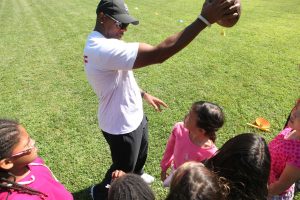 Their resourceful and disciplined approach in serving the poor and underprivileged has earned them a widespread reputation as an innovator. They are also recognized for best practices in 20 nations. Together the foundations will continue to change lives of youth.Victor will also focus his time with a team of mentors and volunteers that are as passionate about his goals to help the young people. Their focus will be to mentor youth to understand that they have every opportunity in their reach and to attain. They will also learn the need to protect and build their image to create a better life for their future.
They will understand how they can take control of their actions and build their self esteem, therefore build their future. The mission is to help young people of today learn that the image they project, how they conduct themselves and how they dress can change their path. This is coining the phrase that "Image Is Everything". Victor and his team have the ability to change the thought process of our youth and enhance their lives forever.
The new Atlanta based staff and volunteers will utilize their time and talents to help establish meaningful goals that will lead to a productive life for the youth in the community. The foundation consists of well designed areas that include educational, cultural, economic, recreational, social and spiritual components that will minimize the negatives and accentuate the positive. Currently the foundation has a behavioral modification program that encompasses civic, social, health, education, and law enforcement consisting of political and community leaders that will work with the youth, training them to develop a sense of pride in themselves and their communities. Professionals as well as volunteers and staff will hold sessions preparing children for the workplace, help to prevent teen pregnancy and promote responsible sex practices, conflict resolution, stop substance and the cycle of domestic abuse. We will stress the need for academic development.If you would like to help Victor in his quest for developing our youth, you can do so in more than one way. You can donate your time or your money.
The foundation is always looking for professionals and, mentors to volunteer their time to the center. If time is an issue, any monetary donation is appreciated. The foundation has a 501(c) (3)tax status. All donations are tax deductible. Please click on one of the two links below for your support. Victor and his team of mentors would be very grateful for anything you can do to help the advancement of the youth of our community. Thank you for your consideration.