Victor Green was born on December 8, 1969 in Americus Georgia. As a well rounded athlete in High School, he ran track, played basketball and excelled in football. After graduation, Victor went on to the International Technical Institute Tampa, FL, where he earned an Associate degree in Marketing. He, then, went on to pursue his first love of Football at Copiah Lynch Community College and excelled in the NJCAA where he was twice named to the "Grid Iron All-American" team. While there, he received Associates of Arts degree. He earned a scholarship to play college football for the University of Akron. He also ran track, while working on a degree in Political Science and Criminal Justice. After he graduated in 1993, Victor entered the NFL as an undrafted free agent. By 1994, he earned the starting position of Strong Safety for the New York Jets.
His passion for excellence and the game of football was evident in 1995 and 1996 when Green led the NFL in tackles. In the 1996 game against the Buffalo Bills, Green set a New York Jets team record with 20 tackles (13 solo and 7 assists). During his 9 year history with the Jets, Green was named the "Best Strong Safety" in Jets history. In 2003, he was honored by being placed on the Jets "Four Decades Team". Green remains third on the Jets all-time interception list, fifth on the Jets all-time tackle list and is on the "Iron Mans List" for 180 consecutive games played in his career.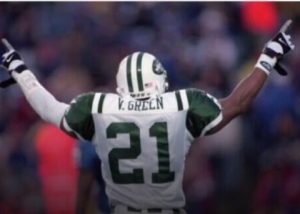 After 9 exceptional years with the Jets, Green took his talents to the New England Patriots in 2002. In 2003, he was acquired by the New Orleans Saints. In 2006, Green signed with the New York Jets once again, so he could retire with the team he had started with and as a New York Jet. This marked his official retirement from the NFL.
All of his exceptional athletic talents and professional accomplishments have led Green to his true passions for community and family. His philanthropic work has been a constant in both his personal and professional pursuits. In 1995, the Victor Green Foundation and Professional Partners for Youth Development designed a non-profit organization that was determined to be a bright spot in the community, where Green grew up. To this day, the organization offers school tutoring, mentoring, college preparatory work with rewards of "Saturday Fun Day" and scholarships for outstanding academic improvement and achievement. The Foundation is located in Americus, Georgia. While in the New York area, he and his wife worked with the Susan G. Komen Foundation Breast Cancer Foundation and a TV special, Lifetime TV Breast Cancer Talk and shopping event hosted by designer, Nicole Miller. The Greens supported the Nassau County Coalition Against Domestic Violence with televised public service announcements, cell phone drives, in collaboration with AT&T Wireless, and used their influence to acquired toys for Christmas parties for the children and women in battered shelters. With the National Food Network, he and his wife spent time serving food in food kitchens, in the Long Island, NY area. In September of 2001, after the tragic events of 9/11, Victor spent time working with the American Red Cross. He volunteered his time serving water to firefighters and survivors of the World Trade Center bombings at 'Ground Zero'.
Due to his passion for public service, Green was awarded the "Key to the City of Americus" because of his exceptional work in his home town community. Green was also honored along with President Jimmy Carter in a salute to "Americus Greats". Green along with Coach Dan Reeves, Coach Chan Gailley, Olympic Gold Medallist Angie Myers and others have their hand prints in front of the historic Ylander Theatre in Americus, GA. Green also has a street named after him, Victor Green #21 Drive, in his home town.
Victor Green is happily married to his wife Esther and has 3 children. They reside in Alpharetta, GA where he is continuing his endeavors as a philanthropist, businessman and entrepreneur.